Regular price
Sale price
€8,50
Unit price
per
Sale
Sold out
Looking for a disposable pod in Portugal?

Awaken your senses with our incredible 800 Puff Blueberry Flavored Disposable Vape Pod! Turn every moment into a blueberry delight with our Blueberry Flavored Vape. Order yours today and surrender to the sweetness and freshness of this flavor.
Manufactured to the highest quality standards by Marсa Glamee, for a smooth and satisfying vaping experience. Remember, electronic cigarettes should only be used by responsible adults. Available in our vape shops.
Materials

Ingredients:

Vegetable glycerin, propylene glycol, flavoring
Shipping & Returns

Home delivery:


1-2 business days on the mainland
2-3 working days in the islands
Price: 3.90 euros


Return policy:
A disposable vape can be exchanged or returned within 14 days of receiving it.
To do so, contact us via email or WhatsApp.


The complete refund and exchange policy can be found here.
Dimensions

Product's name:

Glamee Mini

Gross Weight: 40g

Cartridge capacity: 2ml

Battery Capacity: 500mAh

Resistance: 1.7Ω

Power: 7-10W

Puff: 800 Puffs

Packing: 1 pieces

Size One: 1*3*12.5cm
Care Instructions

May cause allergic reactions! If you have any questions about using this product, ask your doctor or pharmacist.

If medical advice is needed, keep the packaging of this product handy. Keep it out of the reach of children. Wash your hands thoroughly after using them. Keep it closed.

Warning: this product is not suitable for non-smokers, women during pregnancy or lactation, under 18 years old or people who are allergic to any ingredient in the product. Using this product can be addictive.

If you have any of the following conditions, talk to your doctor or pharmacist before using this product: heart, throat, liver, lung or kidney problems, ulcers or inflammation of the stomach or esophagus, hyperthyroidism and pheochromocytoma or diabetes.

Read the information on the package before using the product. Do not throw away the packaging.

Inhalation of the product may affect the respiratory system.
Direct ingestion of product contents may be toxic. If you're not sure about any side effects, talk to your doctor.

Storage: Keep the contents of the product in a dark, cold and dry place, out of reach of children or animals. Keep it away from any food.

Use: open the protective packaging, remove the device. Before use, remove the silicone pads from both corners of the air insert. The device can be used/activated by inhaling the mouthpieces. Do not cover the air supplement at the tip of the device as it may damage the device's evaporator.

After use: do not throw it away with normal household waste at the end of its useful life, but hand it in at an official battery collection point.
Share
View full details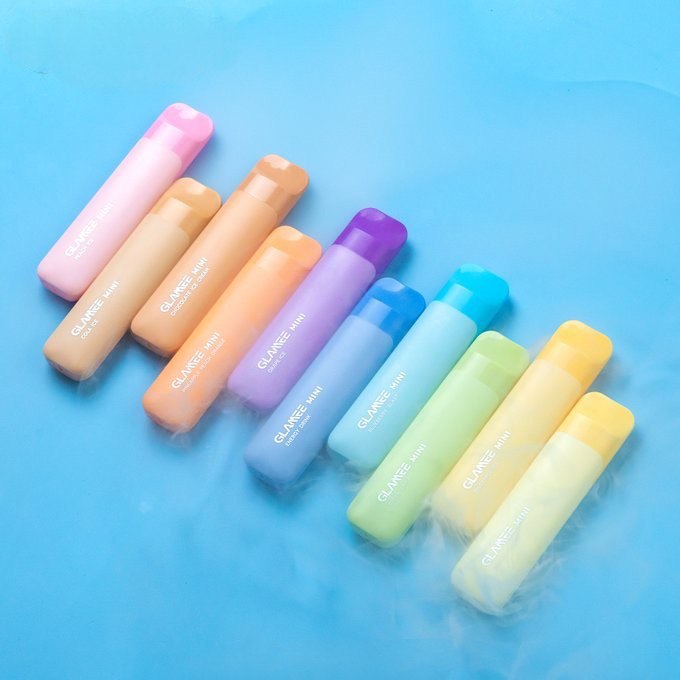 small but mighty
Disposable vape Glamee Mini is designed with a small, rounded body, with a smooth plastic finish and an ergonomic lip-shaped mouthpiece, which gives it an elegant and solid look.
Pre-filled with 2ml of e-juice and powered by a 500mAh battery, it delivers up to 800 puffs of high-quality e-juice for superior vaping.
10 special flavors available for option
Portable and easy to carry on the go
With a beautiful and elegant design in compact size, super practical and lightweight, the Glamee Mini e-cigarette can be used anywhere and anytime at any time, and is ideal for beginners, changers and professional vapers.
Ergonomic mouthpiece and comfortable texture
The Glamee Mini vape is specially designed with an ergonomic lip-shaped mouthpiece and a smooth, comfortable textured finish, which makes it stand out from the crowd in your field.
Extraordinary flavor for MTL vaping satisfaction
Designed with a special e-liquid atomization system for a vaping experience that closely mimics the sensation of traditional smoking, but for a better and extraordinary taste satisfaction.